Bookless Motors Price:
£119 inc VAT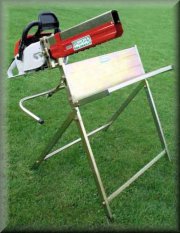 The Log Master Saw Horse takes the effort and strain out of sawing logs and cuts more logs in less time. Using a chainsaw is hazardous, and even the most experienced operator can become careless or oblivious to the dangers, especially with a repetitive job like logging, and prolonged periods of using a heavy chainsaw can produce backache.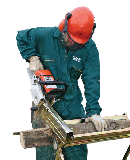 The simple and robust Log Master can overcome these problems, and is probably the safest saw horse available because the chainsaw is clamped to the saw horse itself and the weight is then carried on the frame, leaving the operator free to hold the log in position with one hand and swing the chainsaw through the log with the other.
The chainsaw is supported by a simple clamping plate, which makes it fast, safe and effortless to operate without the constant bending, lifting, starting and stopping. It will change the way you chop logs forever
Click Here for Full Product Details
(Opens in Separate Window)
Bookless Motors Price: £119 inc VAT
Contact: Darren Smith (Storeman), Bookless Motors:
Tel: 01289 388208 or Click Here to send an E-mail
********************